Section3

Key Insights

This section uncovers 10 conclusions or insights from the research results. We analyze each of the individual issues in the Understanding Segments and Verticals section of the book.
Insight 1: Business / Agency Adoption Matures, Led by Utilities Sector
As business and agency users mature in their deployments of drones, spending is ramping up.
Ever since we began running this report, we found that more than half of business and agency users with a drone program spent less than $10K on these operations in the past 12 months. That was always understandable, considering the age of the industry, an increase of about 20% in new drone programs each year and that over 70% of firms relied primarily on in-house pilots to operate.
This year, however, we've seen a big pivot as the average drone program now spends more than this $10K range. More critically, we saw the largest growth among the $50K - $100K range (by 12 points) signifying that spending has increased significantly.
This trend is more pronounced in the utilities sector, where drone programs tend to spend more than anywhere else. 45% of utilities firms with a drone program spent $50K or more, and 23% of these high spenders spend over $500K USD in the past 12 months to support and grow their drone operations.
This growth of drone operations seems to also have become an issue for these organizations, with more firms noting that sourcing trained pilots was a challenge, which was the largest growing challenge, although it is still not the leading challenge these programs face.
Insight 2: Hardware Market Opens Up
DJI's dominance remains, but takes a large hit as competitors (led by Autel) gain 15-points
Before 2020, our reports told a story of DJI firming its grip on the industry. While we saw a small, 5-point drop last year, this year was met with a much larger 15-point drone in DJI's market share, moving from 69% to 54%. See Figure 3.1 below for more details.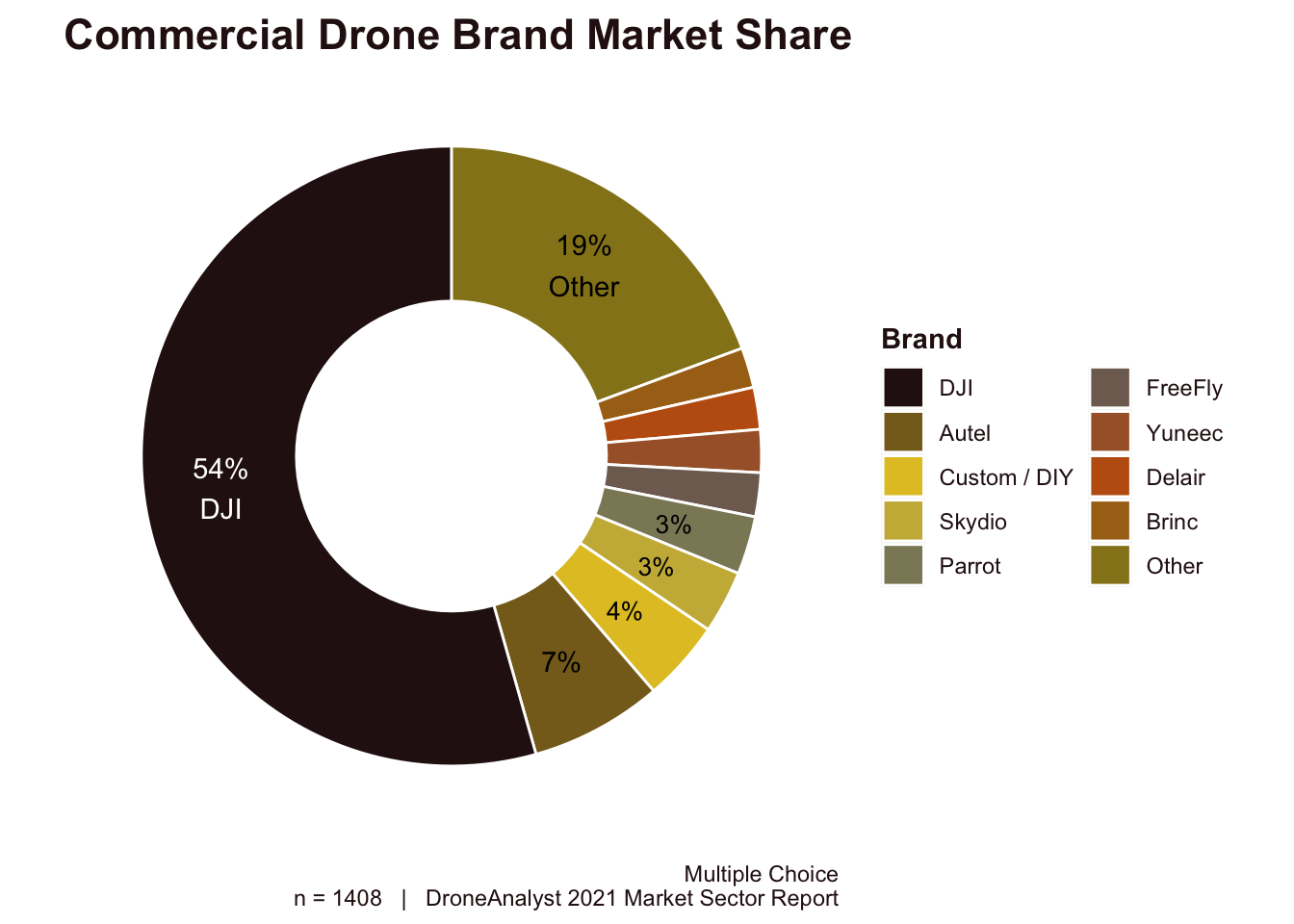 While DJI still remains the drone king, we are starting to see at least one other clear winner for now - DJI's Shenzhen neighbour, Autel Robotics. Autel rose to take up 7% market share, 4 points above any other competitor, with a product suite focused mostly in the public safety and creative sectors with products similar to DJI's. However, we are seeing some unique hardware from Autel as they have introduced their Dragonfly VTOL this year.
Outside of Autel and DJI, Skydio comes in 3rd with Parrot then FreeFly quickly behind. Due to Skydio's supply chain constraints, we are excited to keep on tracking where this firm ends up. Their focus on autonomous flight is a big differentiator from the rest. Parrot is the only one of these smaller firms to have lost market share, dropping 2 points to 3% market share. We've seen this similarly reflected in their public financial data.
While Autel has started to separate from the pack, the hardware field is still open and becoming increasingly competitive. While we have had concerns around policies that incentivized expensive US-made products replicating older Chinese products, we are now seeing more unique hardware designs that are being delivered. We have put together a treemap below (Figure 3.2) to better visualize the complete hardware ecosystem, split by the headquarter location of each brand.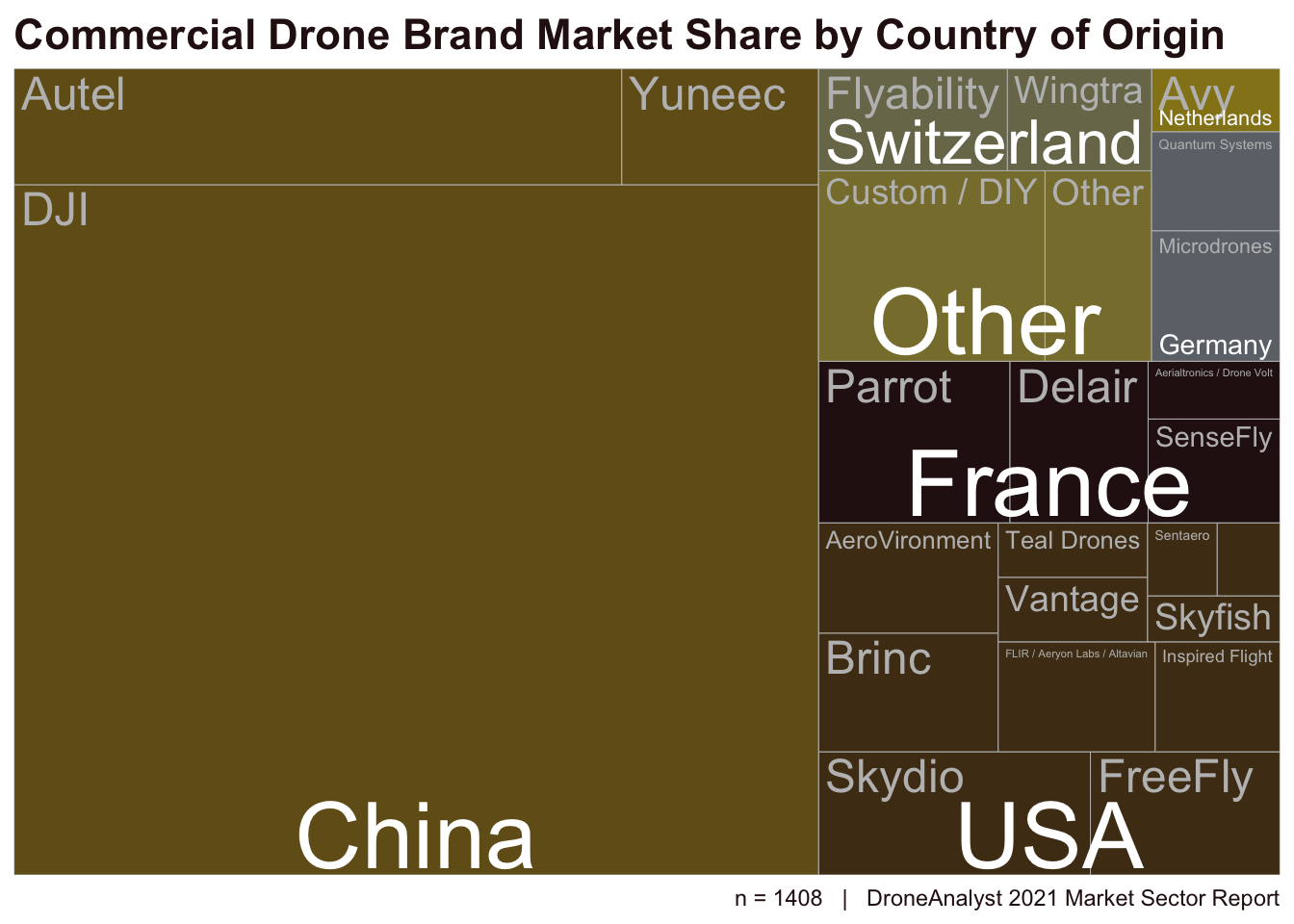 From our analysis of customs data, we have found the market for commercial drones was just above $900 Million in 2020, with expectations to reach over $1.1 Billion this year. As the commercial market is still being born, we expect the hardware market to remain this diverse for the next one to two years before we see much more focused consolidation.

It is also important to note that our data primarily reflects the commercial imaging drone market, while the consumer market remains dominated by DJI, with a market share above 94%. We explore this and more in our previous research on drone customs data.
Insight 3: Services Market Revenues Increase Significantly
Drone services segment has gotten over the initial hype and is moving into more sustainable and profitable times
Just as we have seen big historical movements in how much drone programs are spending, similarly we have seen large jumps in revenues for service providers. This is a large shift over previous years, where we have seen service provider revenues stay relatively flat. Based on our shifts in survey demographics, years of participation in the market and through conversations with industry stakeholders, we have seen a large exit over the past two years of original drone service market entrants. This is similar to many other service industries where new technologies have let sole proprietorships skyrocket in numbers, crashing prices before leaving a more dedicated, sustainable group of operators in the market.
This is pronounced by movement in service provider revenues, with roughly 50% of service providers making over $50K for the first time ever. This is a large departure from roughly 30% of respondents making above this amount in previous years.
Insight 4: Software Market Consolidation and Maturity Continues
As software market matures, winners grow in size and software categories get blurred
Starting in 2020, our report has focused on two narrowly defined drone software categories - Drone Operations Management Software (such as Aloft, Airmap and Skyward) and Insights / Analytics Software (such as DroneDeploy and Pix4D). Drone Operations Management Software tend to be paid for the most scaled users, while Insights / Analytics moves into paid functionality earlier.
While this categorization is great for understanding the primary value created for customers, we are seeing the lines blur as software developers slowly build in cross-category functionality. This trend is led by DroneDeploy, primarily a Insights / Analytics platform, that has built their own drone operations functionality in addition to app integrations with other drone operations management software. This has propelled them to become the most selected software in the whole market, with a combined 16% share of unique software purchases, well ahead of Pix4D at 12%.
Another sign of market maturity has been the broad consolidation in the market. These top two software brands now make up for over a quarter (27%) of all drone software sales, up 7 points from 2020.
This consolidation is more noticeable in the Insights / Analytics category, where DroneDeploy and Pix4D make up nearly 50% of all software purchases. The Drone Operations Management software space is still more open, with many freemium offerings and yearly movement between players. Additionally, we have found that many firms have tried out several suppliers, so our survey only asked about their preferred vendor.
It's important for anyone analyzing this space to understand the difference between market share and revenues in this segment is still large, where players in the drone operations space have many free users, and our two key Insights / Analytics players have disparate approaches to pricing. With Pix4D offering various, narrow (and cheaper) SKUs alongside perpetual licenses while DroneDeploy emphasizes broad functionality and fewer SKUs for its users.
With this in mind, we have shared the combined results for overall software market share below, but take in mind all the notes above on methodology when interpreting and using this figure.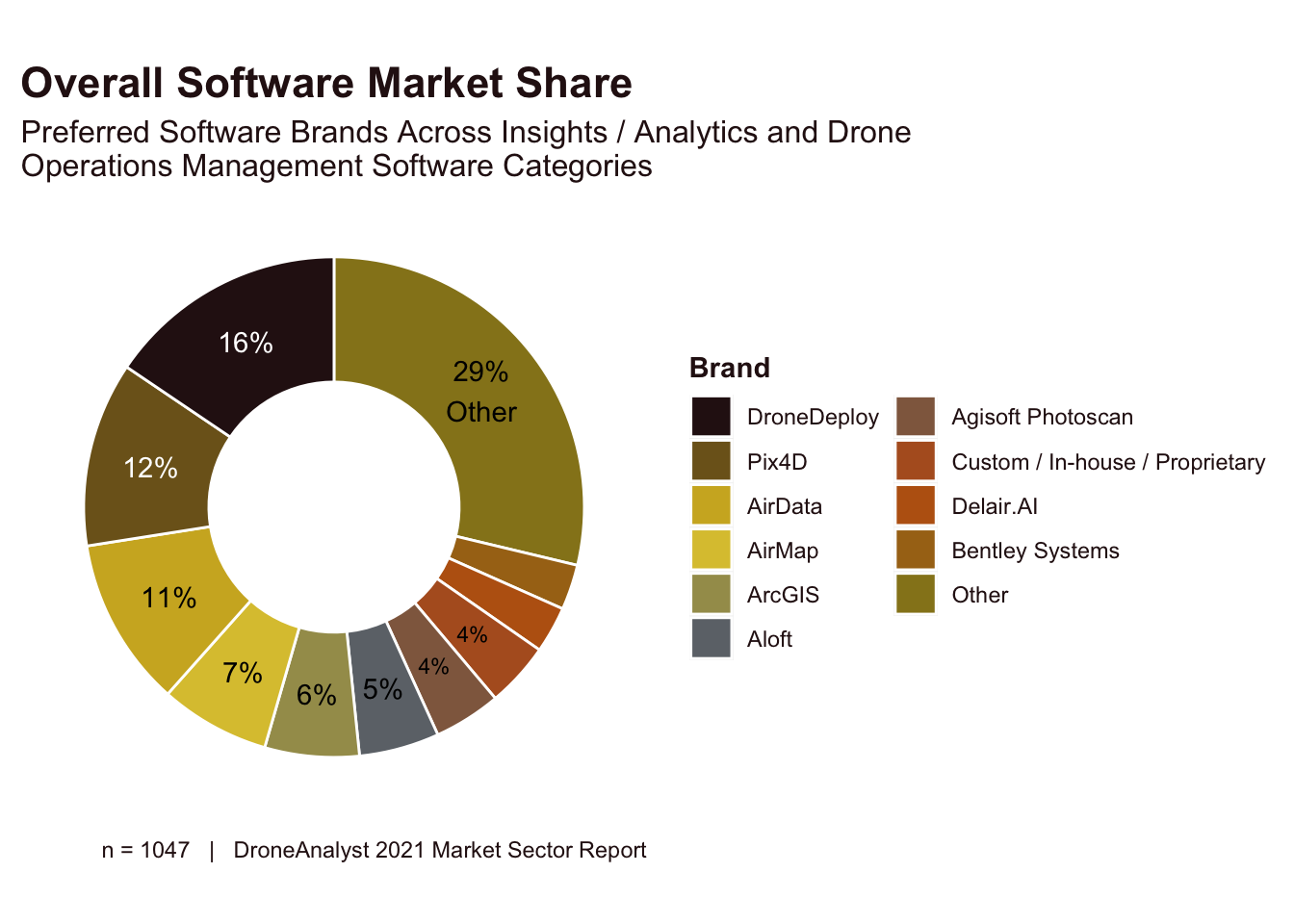 Insight 5: Regulations Still Key Limit to Growth, But Traditional Business Challenges Rising
Service providers and business/agency users continue to list regulatory challenges as key inhibitors to growth, but several operational challenges rise suggesting gaps in the market
Ever since we began this annual report, we have asked business/agency users and service providers about the key challenges they face in expanding their operations or business. Year over year, we have seen challenges like regulatory knowledge, access to waivers or airspace and others dominate lists from both the demand (business/agency) and supply (service provider) sides of the market.
While regulatory challenges remain in the top 5 list for both sides of the market, we have seen a proportional rise in issues related to sourcing qualified pilots (See Figures 3.4 and 3.5 below). Additionally among service providers, we have seen the need for more working capital and training rise noticeably over previous years.
That is not to say regulations have improved enough to not be a factor in market growth. The top two issues for business and agency users are related to regulations, but are followed by three more traditional operational challenges (proving ROI, training enough pilots, internal SOPs). Similarly for service providers, while the top inhibiting issue is now limited working capital, the remaining four issues among the top five are related to regulations (BVLOS restrictions, illegal operators, state/local restrictions and difficulty obtaining waivers).
While we have seen some movement on a few of these issues, we need both clearer, more streamlined rules and better enforcement of rules on the books.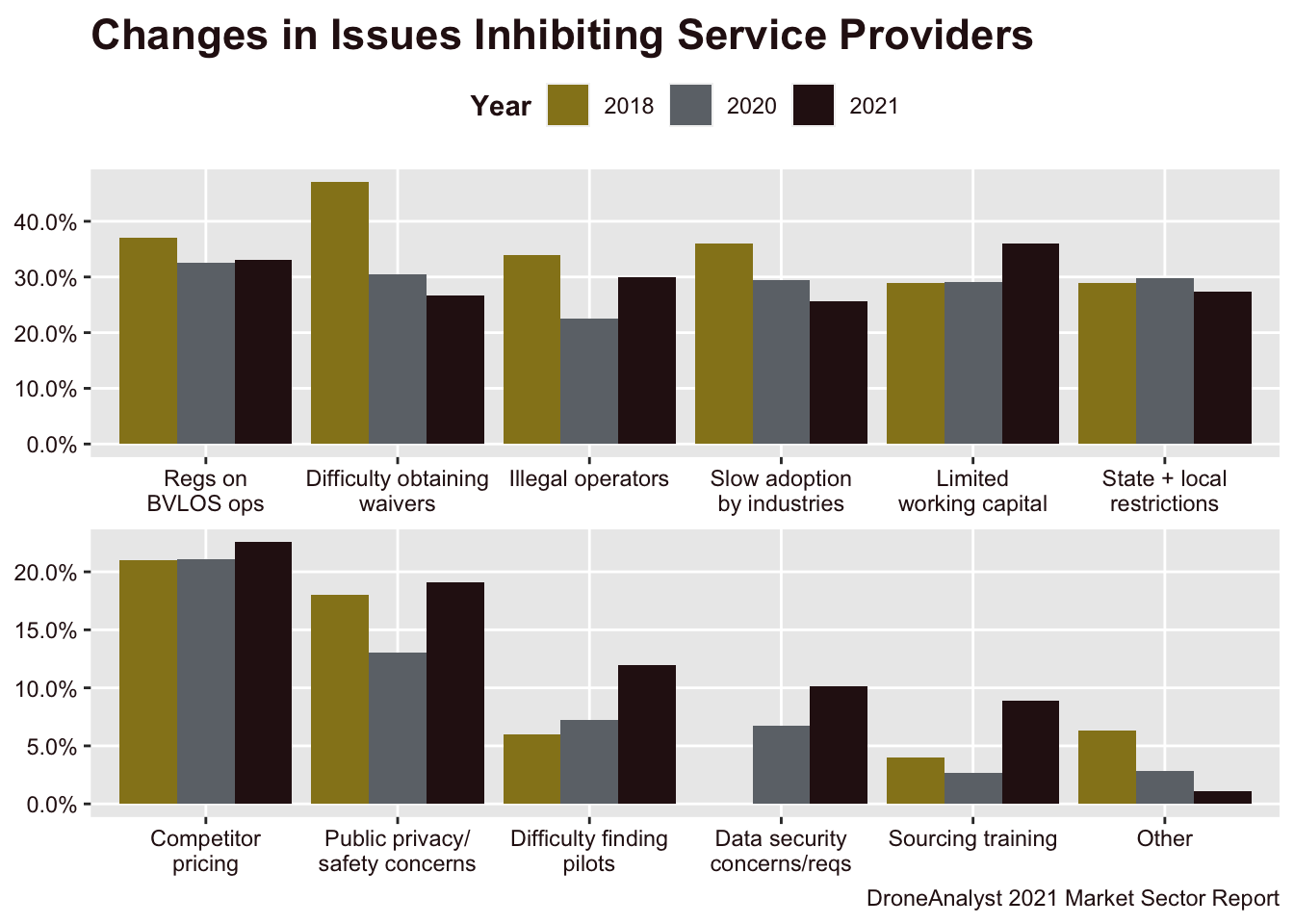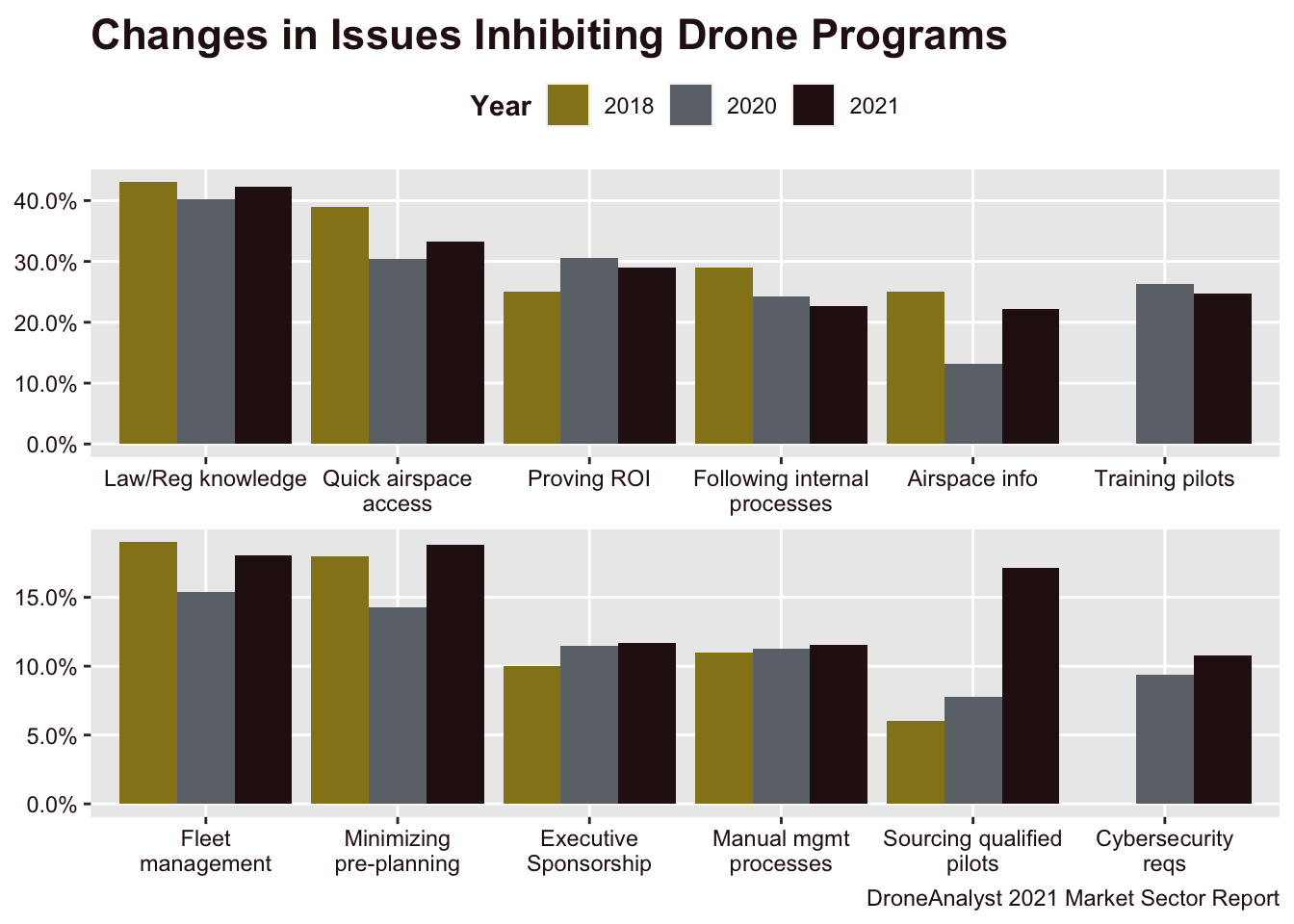 Insight 6: Autonomy Still Not Key Market Driver, But Rises in Importance
50% of drone programs automate most of their flights, and the most towards autonomous solutions will most unlock expansion in the Utilities and Agriculture sectors
Starting last year we began asking drone buyers about the importance of flight automation capabilities when selecting between various drones. This purchasing factor ranked as the fifth most important factor in 2020, being a key purchasing factor for 31% of purchases. In 2021, flight automation continues to influence 31% of all drone purchases, not showing signs of growth.
While flight automation is not the key purchasing factor, and may not be for years to come, we added questions to better understand the adoption of autonomy across the entire drone stack (from flight planning to insights) and the benefits across key segments of drone users.
When measured this way, half of all business and agency users noted that their drone flights were already mostly automated today, with drone flight also being the most automated part of their drone workflow. This stood in stark contrast to data analytics / insights, which was mostly automated by just 14% of all business agencies, suggesting there is still work to do on the software side to apply machine learning and AI to drone data.
Business and agency users overall had fairly conservative expectations for the impact autonomy will have on their operations. 39% of all business and agency users had more forward looking views, such as that autonomy would unlock full adoption or is key in addressing operational challenges, whereas 33% had more restrained views such as that some operations would never be automated or that they don't plan to use autonomous drones at all. The remaining 26% took the level-headed approach that the move to autonomy would not be a major shift, but a steady transition for their business.
The benefits and need for autonomy varied significantly by the organization's industry. With firms in the agriculture sector have the most forward looking views on autonomy, with 70% of these businesses selecting these highly positive options and 46% of those selecting that autonomy is required to unlock full adoption. Utilities followed, with 46% of these organizations noting autonomy was key, but a smaller portion (34%) noting that autonomy was required to unlock full adoption.
Insight 7: Drone Programs Start to Adopt Other Forms of Industrial Robots
Nearly 40% of all drone programs have purchased or will consider purchasing another unmanned system in the coming years
Over the past year, we have seen the rise in interest around ground robots like Boston Dynamic's Spot and others. Various industry players have positioned themselves to move from drone imaging solutions to robotic imaging solutions, from distributors like RMUS and FLYMOTION carrying these new categories to software developer DroneDeploy acquiring a robotics software company.
While this is still a new trend, we wanted to understand how business and agency users of drones overlaps with early adopters of these ground robots. From our findings this year, 39% of all business and agency users with a drone program either have plans to purchase another robotic system (57%) or have already done so (43%).
When looking at the types of robotic systems purchased, these firms were most likely to purchase a canine-inspired or other ground-based system.
Overall, this signifies that business and agency users for drones have a high likelihood to need other unmanned systems, primarily in the ground-based imaging space. This is an important trend to note for developers looking to expand their business horizons into additional unmanned domains.
Insight 8: Drone Distributors Take a Hit Hardware Market Diversifies
As new brands find their path in the market, drone distributors sell a smaller portion of drones overall
In 2020, we saw the surge in commercial users relying on drone dealers and distributors. While this trend continues in 2021, these firms make up just 23% of all drone sales, down from 29% in 2020.
This dip was made up by firms procuring drones directly from the manufacturer's sales staff. We have seen some firms like Skydio take the approach of focusing primarily on direct sales, which may explain this trend, and smaller brands needing to rely on their own staff in these early days.
As the market matures, we expect that drone distributors will again increase as a portion of the whole market. This is most notable in industries like Public Safety, where they account for over 50% of all drone sales.
Drone distributors are also in the right position to leverage their client base to start carrying other robotic systems, as we mentioned in the previous Insight.